Akram Pedramnia is an Iranian-Canadian novelist, translator, researcher, and activist. She writes in both Persian and English.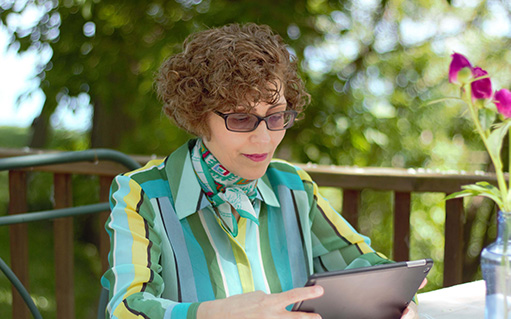 The author of four novels in Persian on themes that reveal underlying social issues based in Iran, Pedramnia has an academic background in English literature and a professional background as a medical doctor. Pedramnia is the translator of James Joyce's Ulysses into the Persian language, whose first volume was published in the spring of 2019 and the second volume was released in the fall of 2020. Pedramnia has also translated F. Scott Fitzgerald's Tender is the Night (2009) and Vladimir Nabokov's Lolita (2013), the latter was disseminated through the Iranian black market. She has translated various works by authors such as Colm Tóibín, E. L. Doctorow, Joan London, Richard B. Wright, Noam Chomsky, and Naomi Klein.
Through the process of translating and disseminating uncensored seminal works, Pedramnia challenges a system of imposed censorship. Censorship of words, themes, and sometimes complete works is an inevitability for a Persian translator. In the case of Lolita, both the audiobook and the e-book have been made available for the Persian audience. Following their discovery of the underground dissemination of her uncensored translation, the Iranian Ministry of Cultural and Islamic Guidance declared the work an obscene publication, prohibited further sales, and ordered for its collection and confiscation. Despite this ban, circulation of the novel is still going strong, indicating the need for uncensored classic works by Iranian readers. The first volume of Pedramnia's translation of Ulysses has followed a similar trajectory: it was translated without censorship, published abroad and is now being distributed "illegally". To encourage accessibility to readers, Ulysses in Persian is being offered for free in ebook format. In the face of suppressive initiatives by the Iranian government, Pedramnia is continuing her search in more inventive ways to render sensitive materials into the Persian language without having to yield to censorship procedures.
Pedramnia also contributes to the literary theory and criticism publications and having authored and published essays on Translation. She has been a guest speaker in the English Literature Department of New York University in the academic years of 2019 and 2020 and a lecturer in University College Dublin at 2018 Summer School. She is a member of the International James Joyce Foundation and PEN Canada.
Pedramnia is a recipient of the Friends of the 2019 Zurich James Joyce Foundation Scholarship and the 2020 Joyce Translation Scholarship and Looren Residency. Her 2019 translation of Ulysses received a Literature Ireland Translation Grant.
One of the strongest-willed translators active today. Confronting pernicious state-sponsored censorship, watching as dubious publishers eight time zones away put her work into print without permission or payment.
- Peter O'brien, The Globe and Mail
Her translations are distributed as pirated or over the Internet without her earning a cent – but that does not bother Akram Pedramnia. She is even pleased. Thanks to her, Iranian readers can read Lolita or Tender Is the Night
- Angela Schader, Neue Zürcher Zeitung